HOLIDAY HOURS

(Vancouver Only)
Dec 23:

10am-2pm |

Dec 24-Jan 01:

Closed |

Jan 02:

10am-6pm
For Immediate Release


River of Spirit SHOW DATE EXTENDED!
New Ink Wash Drawings, Collage, and Video Installation by Taiga Chiba

October 7 - December 23, 2011
Opening Reception | Oct 7 (Fri), 3pm - 6pm
Meet the Artist
Taiga Chiba Will Be in Attendance


Looking at the work of Taiga Chiba is like discovering a new and amazing world - or perhaps traveling back in time to a prehistoric one. Chiba's curiousity about where we came from and why we are here has often inspired the delightfully abstracted micro-organisms and ancient-life forms seen in his art, but resonant themes of life and the existence of all creatures in a complex universe, encourages one to consider our origins.
In Chiba's solo exhibition, 'River of Spirit' at Art Beatus (Vancouver) Consultancy Ltd, the artist shares new works inspired by a trip to the tropical wetland of Pantanal, Brazil in 1995, and recently, a 6-month stay in South America, more specifically, the Amazon. 'River of Spirit' opens with a public reception on Friday, October 7 at 3pm and the gallery is pleased to have Vancouver-based artist, Taiga Chiba in attendance for the event. Ink wash drawings, collage on wooden panels and a video installation of photos from the artist's trip will be on display from October 7 to December 2, 2011.
The new series of work is as playful, spontaneous and fluid as Chiba is technically masterful in his art. In a wall-installation of approximately 100 ink wash
drawings, primordial and aqueous lifeforms, plants and other familial matter virtually come to life as they appear to glide and move about effortlessly on the paper; bustling with energy and purpose, they work in perfect symbiosis. Warm colours, inky black lines, and textures left behind by handmade dyes are reminiscent of a prehistoric age and tropical climate. The artist describes the process of creating the works with natural handmade dyes, colour, and a lot of water, as similar to swimming; some pieces in their final stage, taking months to dry.
Chiba is an acute observer of his surroundings. Floating on the Amazon River in a wooden boat and experiencing an abundance of life in the tropical rainforest - ancient looking fish, night sounds of frogs, small monkeys traveling in trees, and orphaned dogs roaming the markets - largely influenced the wild and playful creatures in his recent works. So did having to adapt to ways of life in the jungle. When fish bait left momentarily by the river was devoured by large, hungry bees, and a catfish left in a sink was swarmed and eaten by ants, Chiba learned that life in the Amazon moves quickly, and in order to keep up, he would have to do the same.
Bo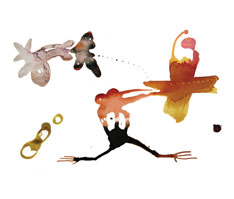 rn in Shizuoka, Japan, Taiga Chiba graduated with a BA from Musashino Art University in Tokyo. In 1981, he immigrated to Canada and obtained his MFA from Concordia University in Montreal. A printmaker for over 30 years, he has exhibited locally, nationally and internationally. Chiba has received numerous grants, awards, and artist residencies and his works can be found in both private and public collections. Taiga Chiba has been featured in five shows at Art Beatus; 'River of Spirit' is his second solo exhibition with the gallery.