Art Beatus (Vancouver) Consultancy Ltd
is pleased to present a special selection of works by our gallery-represented artists to reflect the warmer days of this season. Like dipping one's toes in a cool, blue pond or taking in the quiet warmth and glow of an evening sunset, this year's
Summer Group Exhibition
has been curated to evoke feelings of stillness and calm, but also to leave viewers feeling rejuvenated and refreshed.
flowing water
,
Tony Yin Tak Chu
's mixed media works are translucent, delicate and diaphanous, having an ethereal quality like water. "Layering marks in ink on sheets of Mylar and tracing papers became a metaphor for my searching for a lost time, unidentifiable images that ebb and flow...they are a dreamlike memory for a past that is unrecognizable." ● Through much experience and experimenting,
Katie Cheung
has become a master in floral painting. Although she mostly paints with acrylics on canvas, she does not subscribe to any particular style nor does she paint from real or still life but instead, looks inward to draw on her own imagination and emotions for inspiration. ● Throughout her practice,
Tomoyo Ihaya
has developed an iconography that is distinctly her own. In her mixed media on Japanese paper artworks, her seemingly simple images have complex dream-like narratives that often reference the importance of water – how it nurtures and sustains us literally and figuratively.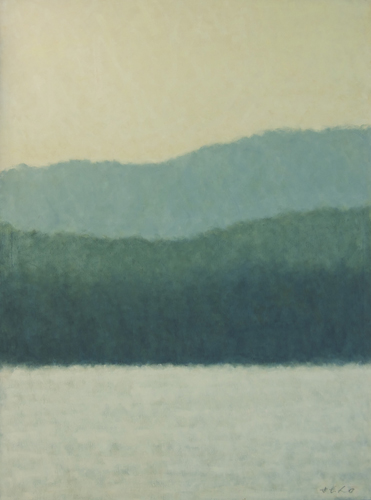 In his art practice, painter
Shyh-Charng Lo
has mainly been preoccupied by one subject matter: landscape – usually the picturesque view of mountains, water and trees around his own neighbourhood of Point Grey in Vancouver. Using minimal forms and colour, his serene paintings gently evoke a feeling of timeless nostalgia. ●
Seung Won Suh
was one of the early members of Korea's first internationally recognized modern art movement, Tansaekhwa, which translates as monochrome painting. Characteristic of works in this movement,
Suh
's paintings appear minimal, austere and quietly meditative with semi-transparent layers of paint that reveal and conceal, drawing the viewer in while blurring the lines between the foreground and background. ● Introspective and evocative,
June Yun
's water-inspired landscape paintings turn the viewer into a wistful traveller. According to
Yun
, "Water's variety of forms and reflections seem real and unreal, like a dream or mirage...sometimes it is like memory that seems clear, but is also misty."
About the Artists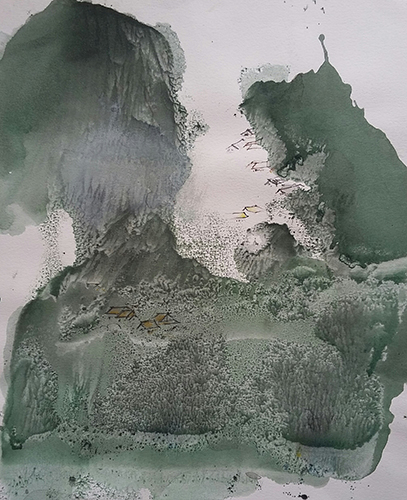 Born in Hong Kong,
Tony Yin Tak Chu
moved to Canada in 1996. Soon after settling into Vancouver, Chu attended Langara College where he earned a Diploma in Fine Arts in 2004 and then went on to complete a Bachelor of Fine Arts majoring in Visual Arts in 2006 at Emily Carr Institute of Arts and Design. Since his graduation, Chu has had various solo and group exhibitions locally as well as in the United States and Mexico. He has also exhibited his work as public art in Vancouver and Richmond, and in the Toronto and Edmonton transit systems.
Katie Cheung
was born in Hong Kong and moved to Canada as a young adult where she studied fine arts at Langara College from 1991 to 1993 before graduating from Emily Carr Institute of Art and Design in 1996.
Cheung
has been exhibiting for over 20 years and her work has been written about in several articles and reviews. In 2000, she published a catalogue of her paintings and poems called, Apple from My Heart.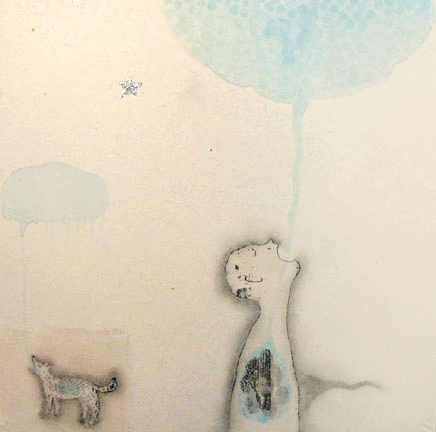 Accomplished in various visual arts disciplines and the recipient of numerous awards, grants and residencies, including the prestigious VADA Award from Vancouver Foundation,
Tomoyo Ihaya
was born in Tsu-City, Japan and earned a Bachelor degree in German Literature from Rikkyo University in Tokyo. After moving to Canada,
Ihaya
studied fine arts at Mount Allison University in Sackville, New Brunswick, Emily Carr Institute of Art and Design in Vancouver and Capilano College in North Vancouver before completing a Master of Fine Arts from the University of Alberta in Edmonton, Alberta.
Ihaya
's work can be found in numerous collections in Canada, USA, Italy and Asia.
Born in Nagano, Japan and raised in Taiwan,
Shyh-Charng Lo
has a Bachelor and a Master of Arts in Anthropology and Archaeology from National Taiwan University and University of British Columbia, respectively, as well as a Master of Museum Studies from University of Toronto. After moving to Vancouver to become a full-time artist, he has exhibited extensively across the Pacific in Canada and throughout Asia as well as publishing several catalogues of his work.
Lo
's work can be found in public collections in Canada, USA, Singapore and Taiwan.
Suh Seung-Won
was born in Seoul, Korea in 1941 and has been a practising artist for over five decades. He has exhibited in a number of key Tansaekhwa exhibitions in Korea and Japan during the 1970's and 1980's and in 2000,
Suh
participated in the Gwangju Biennale and the LA Art Show in 2015. More recently, Suh had a group exhibition, "Origin" at Galerie Perrotin in Paris in 2016 with two fellow members of the Origin collective who all later became prominent Tansaekhwa artists.
Currently working and residing in Vancouver,
June Yun
was born in China and attended Anhui Normal University and Central Academy of Fine Arts in Beijing majoring in painting before completing a Master of Fine Arts degree from the University of Newcastle upon Tyne in the United Kingdom in 2000. Since then, she has taught in universities and art institutions in China and Canada and has exhibited her work internationally in China, Europe and North America as well as being the recipient of a number of awards, grants and residencies.