Amusement Park
Art Beatus Exchange Square Gallery
Shop 301-302 Exchange Square I Podium, Central, Hong Kong
---

Artist Statements and Images
Law Yuk Mui

: Branch off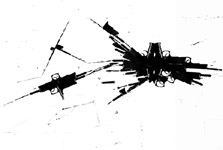 Artist Statement:
Water + Gun = Water gun. Water gun is an understandable object. Ink and gun, therefore, is a variation under that kind of understandable relationship. I playfully mix and combine images of a gun and the flowing of ink, merging into one medium.... a friction contrary to the common comprehension of ordinary people and some sort of black humor. This kind of black humor is not about anti-heroism, but the sneer of the odd marriage between contradictions and the give-and-take situation of anything.


Natalie Lo Lai Lai: Getting Puzzle II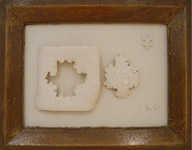 Artist Statement:
I kept playing and putting the pieces of the jigsaw puzzles together. The images on these puzzles were reflections of the world that we longed for, dreamed of or craved for. After much explosure what were left of these images were only pale but similar traces of their past existence. These traces could be personal or social, something that I had been dreaming of, or trying to preserve, or being puzzled by them or even suspecting them as something else.
"Puzzle" triggers off the word "Puzzled". Being puzzled makes people contemplate. I believe in things that are dubious.




Chin Po Ki

: Death of Snow White



Artist Statement:
I was brought up in a world of fairytale where everything was perfect. However, as time goes by, I became more matured and discovered the disparity between this world of fairytale and the real world. I felt betrayed and found it pointless to continue to believe in my world of fairytale. From then on, I have been wandering between both worlds. What I experienced in reality made me realized the imperfectness of the world of fairytale. On the other hand, I feel that the real world is incomplete without my world of fairytale.




Flora Fok Sau Ha

: Miss Lucky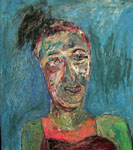 Artist Statement:
In my works, I try to explore three main areas:
- Portraits
- Geometric abstraction
- Free Association




Michelle Lee Ho Wing

: Apple Planet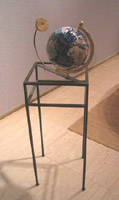 Artist Statement:


It seems to me that everything starts with an apple: Adam and Eve tasted the forbidden apple; Newton discovered the theory of universal gravitation from the fall of an apple; children learned that A stood for apple; we have books named Little Red Apple and Red Apple; a saying: an apple a day keeps the doctor away; and Super Heroine Buurin meeting the Apple Planet.