Collected Works by
Guo Jun Cha, Hai Yan Chen
Hao Hong, Hye-Kung Kim
Luo Brothers, Qin Yufen
Rong Rong, Taiga Chiba
Gong Yi Wang, Zhen Zhong Yang
Dali Zhang, Jia Zhu
Art Beatus Vancouver, December 7th 1999 to January 30th, 1999
---
Collected Works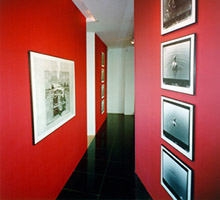 Beginning on December 07, 1999, Art Beatus Gallery will be presenting an exhibition entitled "Collected Works". This is a group exhibition of works by several gallery artists:
Guo Jun Cha, Hai Yan Chen, Hao Hong, Hye-Kung Kim, Luo Brothers, Qin Yufen, Rong Rong, Taiga Chiba, Gong Yi Wang, Zhen Zhong Yang, Dali Zhang and Jia Zhu.
A range of two-dimensional works from the Gallery's collection will be presented in the main exhibition spaces along with a selection of catalogues. The exhibition is curated primarily on aesthetic qualities, and will lend a wonderfully light feeling for the holiday season.
Beyond the red walls in the window showcasing the silver gelatin photographs by Rong Rong, powerful red monotypes by Guo Jun Cha colour-saturated photographs by Zhen Zhong Yang, and monochromatic etchings by Hai Yan Chen will be presented in the first exhibition space. The full-colour monotypes of Taiga Chiba, the subtle paintings of Hye-Kung Kim, and the dark etchings of Gongyi Wang will balance the works in the adjoining spaces. Coupled with the grid of paintings by the Luo Brothers and the photo-based works of Dali Zhang in the far gallery will be a table showcasing a variety of catalogues available for purchase. Mirroring this selection of publications, in the Viewing Room there will be a selection of new serigraphs by Hao Hong.
Art Beatus, with galleries in Vancouver, Canada and Hong Kong, focuses on international contemporary art. The Vancouver gallery is on the upper plaza at 888 Nelson Street.


---
For further information, please contact Sheng Tian Zheng :

Canada: tel: (1) 604.688.2633, fax: (1) 604.688.2685
M1-888 NELSON ST, VANCOUVER, BC, V6Z 2H1, CANADA
Email: Info@artbeatus.com