Vancouver, B.C. -- From February 5 to March 6, 1998, Art Beatus will present an exhibition of over 130 collages, assemblages, photographs, drawings, audio loops and videos by both Beck and Al Hansen.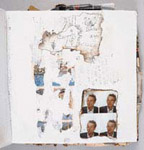 Grammy award winner Beck Hansen, a songwriter, musician and artist, is best known for his critically acclaimed 1996 pop album, Odelay and his most recent release, Mutations. Al Hansen, his grandfather, gained fame in the 1960s as the creator of Happenings while based in New York. In addition to his performance art pieces Al Hansen is also known for his witty Goddess Venus collages composed of refuse such as cigarette butts, burnt matches, Hershey bar wrappers and other detritus. Al Hansen passed away in 1995 at the age of 68 in Cologne, Germany, where he had been living and working for the last fifteen years of his life.
In the 1980s and early '90s, the Hansens shared an informal exchange of ideas and notes on artmaking. Beck Hansen also made a number of trips to Europe in order to travel with his grandfather. This dialogue acted as a catalyst for the development of their respective, overlapping engagements with art and sound. Each had already explored the connections between the two disciplines. They concluded that art and sound/music were not separate entities in a media-saturated world, and that the mixing and sampling of media could be both subject matter and medium.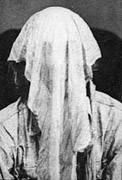 Curated by Wayne Baerwaldt of Plug In Inc in Winnipeg, this touring exhibition was first presented at the Santa Monica Museum Of Art in 1998, for the inauguration of their new exhibition space, and more recently opened the fall exhibition season at Thread Waxing Space in New York and at Plug In Inc in Winnipeg. After the Vancouver stop, the exhibition travels to Tokyo, Nagoya, Pittsburgh, Banff, Kingston and other cities through 2000.
The exhibition is accompanied by a book, Beck & Al Hansen: Playing With Matches, published by Plug In Editions and Smart Art Press. The book presents a selected overview of Beck and Al Hansen's related mixed media artworks with a specific focus on sound, words, images and performative elements. The fully illustrated 144-page book includes text by both Hansens, along with an essay by curator Wayne Baerwaldt and an interview with Beck by Carlo McCormick, an arts writer who is senior editor of Paper, a New York-based monthly magazine that covers pop
culture.

During the exhibition opening on Thursday, Feb 4, Channing Hansen will present an Al Hansen performance entitled Elegy for the Fluxus Dead. Bibbe Hansen, Al's daughter will also be present for the exhibition opening. The opening is kindly sponsored by Taxi and Jones Soda Co.

Art Beatus, with galleries in Vancouver, Canada and Hong Kong, focuses on international contemporary Chinese art. The Vancouver gallery is on the upper plaza at 888 Nelson Street.
---
For further information, please contact:

Canada: tel: (1) 604.688.2633, fax: (1) 604.688.2685