"Playful" is the best adjective to describe Ji Dachun, one of the leading contemporary artists from Beijing.

Ji was born in Nantong, Jiangsu Province in 1968 and graduated from the oil painting department of the Central Academy of Fine Art in 1993.

The contents of Ji Dachun's works, which are often his comments on various current topics, are definitely cheeky and his liberal use of white space in his works are distinctively his own as well.

Art Beatus Gallery at Exchange Square One Podium will feature the "Lighter Aspects" of Ji Dachun in its coming September exhibition.

Ji did only pencil drawings on canvas during his first few years as a full time artist. He lamented that he could not afford colours living as a hungry and struggling artist. Lately, he has added colours to his works. Are these signs that he is meeting his career targets?

The September exhibition will show Ji Dachun's earlier works as well as his latest colour paintings.

The artist will be present at the opening ceremony.

Art Beatus Gallery is located at Shop 301-302 Exchange Square podium level. For further information about this exhibition, please contact
dyiu@artbeatus.com.hk
, Dominic Chan at 852.2522.1138 or Josephine Hau at 852.2526.0818.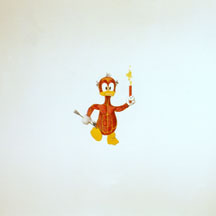 Roasted Donald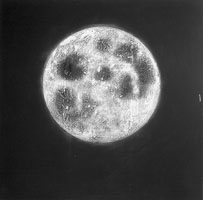 Full Moon