NEWS RELEASE
---
Contemporary Woodcuts from China
Water and Oil

Art Beatus Vancouver, July 3rd to August 31st, 2001

Artists: Bin An, Feng Cai, Hai-yan Chen, Biao Dong, Hao Hong, Yon-an Huang, Guo-qiao Kong, Qun Li, Yun-fei Li, Zhong-xiang Li, Wei Liu, Shyh-charng Lo, Gong-yi Wang, Ji-de Wu, Hong Yu, Yong-qui Zhang.
---
Water and Oil

The Art Beatus Gallery is very pleased to announce a group exhibition of contemporary prints. The show, entitled "Water and Oil", gives a modern glimpse behind the resources and a reflection of the image through the eyes of the artist into Chinese Print Making. "Water and Oil" has the ability to showcase assorted post 80's woodcut designs, recent lithographs, etchings, silk-screens and Serigraphs.
| | |
| --- | --- |
| Beginning in China woodcuts were a way for replicating technologies to emerge into art. Once thought advance forms of duplication woodcuts were transformed into art thus a new form and inspiration was made possible. Thrusting woodcuts in to art and creating a unique niche for social development, woodcuts changed into an individual format that was an open design allowing individuality to fit into any concept of style while still relating to "the people". | |
| | |
| --- | --- |
| | Chen Hai-yan makes woodcuts based on her previous night's dreams, creating surreal yet vivid even political recounts of her nightly adventures. Her dream sequence style differs greatly from Wang Gong-yi's. Newspaper stories clearly identify Wang's works as "the quiet synergy of so many slightly different understandings". Wang Gong-yi utilizes traditional techniques using both stone and plates to make natural subjects come alive with abstract lines and textures. Lo Shyh-Charng changes the palate again, you may take note when you are perusing through his catalogs and see that Vancouver, BC has made a natural/true impact on his method, perhaps best seen in his lithographic "Coast Mountain Series". Li Zhong-xiang's approach clearly defines geographic influences, being from Yunnan Province there is a certain sharpness that remains simplistic through out his works. |
Woodcuts cross the much needed bridge between people and technology creating a closer bond with Mother Nature. Geography and outside influences can also be seen as a factor on many woodcut styles. You may see many styles in this show differ due to these aforementioned points. Individuality, Geography and Personality all reflect differently in Water and Oil.
Art Beatus, with galleries in Vancouver, Canada and Hong Kong, showcasing international arts with a focus on contemporary Chinese art. The Vancouver Art Beatus Gallery is on the upper plaza at 888 Nelson Street.
Opening Reception:

■

July 6, 2001 Friday

■ parking provided @ 808 Nelson

Gallery Hours:

■Tuesday – Saturday

■ 10am till 6pm

Location:

■

M1 – 888 Nelson Street

■

Vancouver, B.C.

Contact:

■Media Relations

■ Esther Lowry

Telephone:

■tel. 604.688.2633

■ fax. 604.688.2685

E

mail:

■info@artbeatus.com
■ http://www.artbeatus.com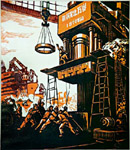 ---
For further information, please contact :
Canada: tel: (1) 604.688.2633, fax: (1) 604.688.2685
M1-888 NELSON ST, VANCOUVER, BC, V6Z 2H1, CANADA
Email:
Info@artbeatus.com