For Immediate Release
Fires In the North
Photographs of the Aurora Borealis by Yuichi Takasaka

August 23 - October 18, 2013 Exhibition Extended to November 1, 2013
Opening Reception | August 23, 2013 (Friday), 3 - 6pm
Meet the Artist | Yuichi Takasaka will be in attendance
We are pleased to present returning photographer Yuichi Takasaka's second exhibition, Fires In the North, at Art Beatus (Vancouver). Stunning and ethereal, Takasaka's photographs of the Aurora Borealis capture the sublime beauty of these mysterious visitors of the north.
Although the northern lights has been studied and can now be explained in scientific terms – produced by photons released from charged nitrogen and oxygen atoms originating from solar wind that have been directed toward Earth's poles via Earth's magnetic field – one cannot escape the feeling of awe that is inspired by this phenomenon. According to Takasaka, "My love of colours in nature led me to my love affair with the Aurora Borealis…These Lights became a part of my life."
Sublime is the name given to what is absolutely great … what is beyond all comparison great.1

In the visual arts, the idea of the sublime has traditionally been used to describe landscape or seascape paintings such as those by Casper David Friedrich or J.M.W. Turner. Although Takasaka's photographs take place in the northern Canadian landscape, the predominant sublime element here is not the vast and remote arctic landscape but it is the vibrant, elusive and ghostly Aurora Borealis that invokes feelings of awe, greatness and boundlessness in these images.


Fires In the North opens on August 23, 2013 and runs until October 18, 2013. Please join us for the opening reception on Friday August 23 from 3 to 6pm. Yuichi Takasaka will be in attendance.


Born in 196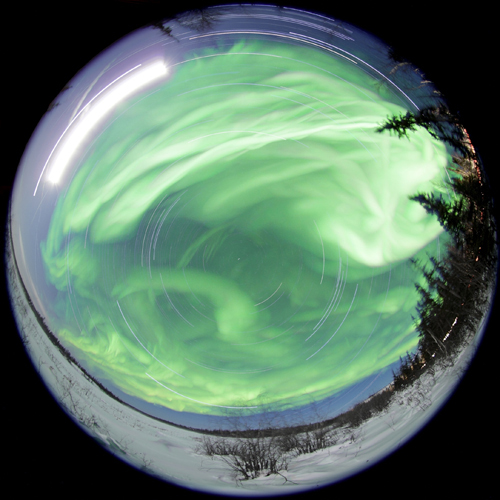 8 in Japan, Yuichi Takasaka immigrated to Canada in his teens when his interest in photography began to develop. He settled in Yellowknife in the Northwest Territories for seven years before moving to Lumby, British Columbia where he currently resides. He still returns every year to Yellowknife to lead photographic tours where he continues to photograph his beloved Aurora Borealis. Takasaka has exhibited his beautiful and technically proficient photographs around the world and his work has appeared in various magazines, newspapers, books, textbooks, films, CD-ROMs and DVDs, and internet websites including NASA and National Geographic. In 2007, Takasaka was also the recipient of the Wildlife Photographer of the Year Award from BBC Wildlife Magazine.
For more information, please visit our website at www.artbeatus.com or call the gallery at 1 (604) 688-2633.
1 Immanuel Kant, Critique of Judgement (Oxford: Oxford University Press, 2007) 78.