Previous Exhibitions / 2009

I Back to Previous Exhibitions Home I



I Star Light, Star Bright I Still Frames I Three On The Road I Nu Shu = Secret Script I Unimpeded I
I Group Exhibition of Gallery Artists I Drawn Together I FRIGHT I Notes of Eastern Dreams I
I Drawings - Trees and Water I Wilderness I Floating World I



Art Beatus (Vancouver) Consultancy Ltd., November 20, 2009 - January 22, 2010 |

top

|

Star Light, Star Bright

Photographic Works of Canada's Northern Skies by Yuichi Takasaka

"My love of colours in nature led me to my love affair with the Aurora Borealis. I first saw these strange Lights in Jasper, Alberta in the spring of 1990 and photographed them...."


---
Art Beatus Hong Kong (Graham Street), November 25 - December 16, 2009 |
top
|
Still Frames
Works by Stephanie Ho


Stephanie's recent works relate to her interest in observing human activities of metropolitan city lives, be it in a train station, airport, shopping mall, park or any other public spaces. The people in the paintings showed no expressions. Viewed from a distance, they look the same yet they are different. Just like the woman you sit next to on the bus every morning or the man standing at the opposite side of the platform - strangely familiar.
---
Three On The Road
Works of Zhang QiKai, Ma Yanling and Wang Yu
Curated by Amy Y. Li

The artists in "Three On The Road" exhibition represent three diversified approaches in art creation. Their specific works are visually different, very much influenced and symbolic of the environs and contacts that the artists subsist at this juncture of time thus heightening the vibes and resourcefulness of their interactions.


---
Art Beatus (Vancouver) Consultancy Ltd., August 28 - October 30, 2009 |
top
|
Works of Victoria H. Chang

Nu shu was a secret 'written' language invented by uneducated peasant women centuries ago in southwestern China. Chang's work examines the visual beauty and metaphorical power of nu shu as a method of blurring the boundaries of Eastern aesthetics with contemporary Western art traditions.


---



Art Beatus Hong Kong (Graham Street), August 7 - 27, 2009 | top |



New Ink Works by Lei Ling



Breaking loose from the imageries and limitations that have tied and bound her for two decades, unimpeded,

Lei Ling

ventures into ideas and themes that, once, seem so distant from her past works. In this exhibition, the delineation of black lines on white space remains but the interpretations are refreshingly different.



---
Art Beatus Hong Kong (Graham Street), July 7 - 24, 2009 |
top
|


Group Exhibition of Gallery Artists

Presenting Works by the Following Artists:

Andrew Lui, Frank Tam, Li Yibing, Louis Boudreault, Tien Chang, Wang Nengtao, Yang Xiaobing, Zhang Yaxin.


---
Art Beatus (Vancouver) Consultancy Ltd., July 3 - August 14, 2009 | top |

Works of Katie Cheung, Taiga Chiba, Tomoyo Ihaya, Junichiro Iwase, and Shyh-Charng Lo


Drawing can appear in many forms and these five local artists have been brought together to show their diverse, one-of-a-kind pieces ranging from ink on paper and watercolours to mixed media works in a special exhibition much-devoted to the theme of drawing.
The exhibition runs in conjunction with Vancouver's first-ever drawing festival, 'DRAWN 2009' and it is with special delight that we showcase the works of artists so unique to one another, yet all connected by a common thread in drawing.


Art Beatus Hong Kong (Graham Street), June 1 - 30, 2009 |
top
|
FRIGHT
Selected works by Chen Jianguo


In his new Shadow series, Chen Jianguo, tries to explores into the real meaning of fright. The question that he poses before us is: Fright, is it from the jaws of the predators or from the not-so-frightening but illusive mouth that lurks behind?


---
Art Beatus Hong Kong (Graham Street), May 8 - 27, 2009 |
top
|
Paintings by Gilles Rieu


He named the main part of the exhibits – Hong Kong, yet the paintings bear no obvious visual resemblance. They were notes of his dreams and experiences out east in Vietnam, Japan and China, especially those from Guangzhou where he stayed for a short duration two years ago.


---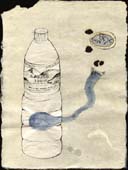 Art Beatus (Vancouver) Consultancy Ltd., February 27 - May 15, 2009 |
top
|
Drawings - Trees and Water
New Works of Tomoyo Ihaya


Trees and water are recurring subjects in Ihaya's artworks. In her eyes, they are symbols of growth and life, essential to human and other creatures' existence. Profoundly influenced by her recent travels and life in India, Ihaya's new series of works are extremely relevant in today's eco-conscious world, but more specifically pertain to the artist's personal journey.



---
Art Beatus Hong Kong (Graham Street), February 5 - 28, 2009 |
top
|
Paintings by Frank Burbach


The exhibits consist of works that he painted over the past 13 years. The forceful brush strokes and delineations, entwining runs of vibrant drips as well as fields of harmonious or contrasting pigments, some seem wild and free but many, when viewers settle their eyes, are patterned and logical.
---
Art Beatus Hong Kong (Graham Street), January 9 - 31, 2009 |
top
|
Floating World
Paintings by Chak


Chak's Statement: "All the air, mountains, waves, fog and clouds that viewers see in my works can be considered as the pride of being Chinese in an age of complete Westernization......."



---
For further information, please contact:

Canada: tel: (1) 604.688.2633, fax: (1) 604.688.2685